Boho Planned Wedding: Nat and Steve's Fun Filled Aqua and Peach Tipi Wedding
Blog created by Kelly Hood at Boho Weddings
I have an absolute treat of a wedding for you today and one I am very proud to share with you, as it is one of my very own, Boho planned weddings! This wedding to me epitomizes everything that a Boho wedding is, and the reason why I started planning weddings in the first place. Not only is it bursting with the most amazing details, decoration, colour and just over all loveliness, but Nat and Steve were the most wonderful couple to work with. They were cool, calm and really wanted to inject their own personalities into their day, and that they did in huge amounts. From the stunning location to the beautiful flowers, the amazing wood details all bought together by Steve, and a beautiful dress, this wedding was an absolute pleasure to work on! I also got to work with some amazing suppliers which always makes my job so much easier!
I just LOVE everything about this wedding and going through the images and putting this post together really did bring back some amazing memories of a cracking day. Nat and Steve I'm sure you will agree are gorgeous and totally made for each other! I wish them many many years of happiness together. Big thanks toLaura who came with me and assisted on the day, to the amazing Binky Nixon for these beautiful photos and to Ben from Kissing Gate Videos for eh wonderful film.
'A rustic, honest, vibrant, fun filled day that represented us completely. The ceremony was bursting with emotion, the sun shone, the dancefloor was never empty and the bar finished up dry!' 
Natalie and Steven were married on 2nd August 2013 at Normanton Church Museum in Rutland with the reception at Armley Lodge Farm, Hambleton, Rutland. 'We both love Rutland water, and we spend a lot of time there. It is a large manmade lake, and has a 25 mile circumference. In order to make the lake, they flooded a village in the 70's – but after protest from the local community – they kept the church itself (although it is now a museum and no longer a functioning church). It now sits completely isolated on the water's edge – and is a utterly stunning location. We knew we didn't want a church ceremony, and a hotel wedding wasn't for us, so Normanton Church was completely perfect. The Tipis went up across the water on farmland that also looked out over the lake. We were by the water's edge all day! We had 70 guests for the day, and another 50 for the evening, It was around 18 months in total to plan.'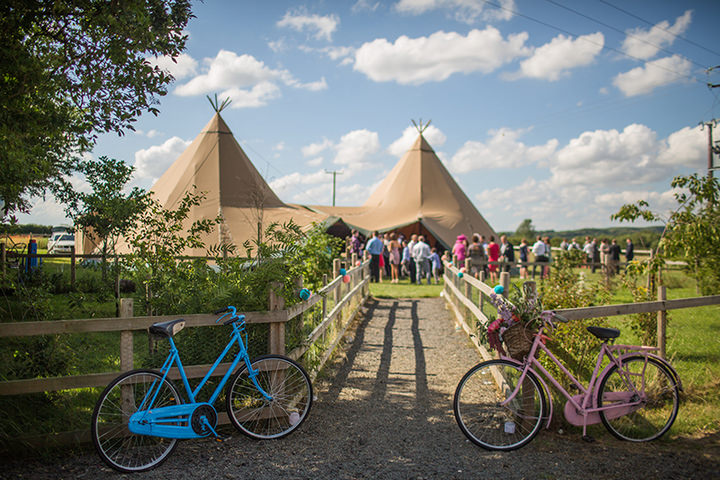 How they met
We met 8 and ahalf years ago in a local nightclub. And we're not talking one of those classy places that plays decent music – I'm talking dingy, sticky floor, cheesy music type establishments. I would have never said it is a place to find love. But here we are!
The proposal
On our 7 year anniversary, we went up to the Lake District for the weekend. It had been snowing heavily – and the scenery was just gorgeous. After a posh meal, we went for a walk (to which I nearly refused – I didn't want to ruin my new boots in the snow!, Glad I relented now). He got down on one knee by the edge of Lake Windermere. Very romantic.
How did allocate your budget?
We prioritised based on what was important to us both. Photography was hugely important – I have spoken to people who have tried to save money on their photographs, and they have all regretted it. We (well, I) also wanted a really good quality florist. Flowers can transform a location and really make a statement. On the flip side, we went for a more relaxed menu, and had a BBQ – which reflected the feel of the day, and meant we saved money on catering. We made a lot of the decorations ourselves – and with Steve being a carpenter most things were made of wood – which saved money!
Why did you choose your photographer?
We trawled blogs and websites looking for the right photographer. We chose Binky based on her vibrant and artistic style – she has such a creative eye. Which is why we went with her suggestion to jump on the back of a tractor trailer, and put on a rabbits head – we knew the photos would be amazing!
We also had a videographer – a cost we debated greatly – but we knew that having moving footage of the day would be priceless. We knew it would be something we would treasure and watch again and again – and show our kids one day!
The dress
My dress was a Stephanie Allin design; Ingrid. I had been eyeing it up in the window for months – and then to find it was a sample, I was in heaven! The shoes were by Rachael Simpson, and my headdress was a Gillion Million design. They completed the whole look perfectly!
The suit and bridesmaids
Steve got his suit from Ted Baker. He knew he wanted grey, but was after something a bit different. This one caught his eye – and I must say it was perfect! The groomsmen all wore varying shades of grey to match.
The bridesmaid's dresses were made by one of my friend's very talented mothers. It meant the girls all got something that was made to measure, and that we could be creative with the design. Their shoes were from a mixture of New Look and Kurt Geiger.
Theme or colour scheme
The starting point was bright colour! We wanted a summer wedding that felt fresh and vibrant. After much debate, we settled on peach and aqua as two of the main colours for the day.
Flowers
A mixture of giant roses, peonies and succulents – a really colourful mix or peach, pinks, blues and greens. For the table centres, Steve sourced some silver birch logs, and the flowers were mounted onto them. The end result was just fabulous, and really transformed the tipis.
Decoration 
It was a DIY affair, with the majority of things being made of wood! Everything was very rustic and homegrown.
Food
We like to call it a 'posh BBQ'! But essentially, we had salmon, good quality sausages and marinated chicken with some salads pasta and bread. I had a waiver about not having a three course sit down meal as I was worried people wouldn't like the more relaxed menu – but the guests loved it! It was in keeping with the feel of the day, and the food was delicious.
Wedding cake?
We had a three tiered cake – mounted on a wooden cake stand. We managed to source a wooden bride and batman cake topper too (in keeping with Steve's penchant for batman movies) – which looked amazing. We had a sweet buffet with cake pops, cupcakes ect, which acted as pudding. In hindsight, I would have ordered more – as it all went down so well with the guests!
Buy or DIY your Stationery?
We had them designed by a friend – who incorporated the peach and aqua colours with bold typographic. The save the date had a wooden background and the invite itself was our love story.
Entertainment
Music is a massive part of both of our lives, and it was so important that the entertainment reflected that.
We had an acoustic band to perform in the transition between the day and evening guests arriving. They also played our 1st dance (which was Everlong by the Foo Fighters). Everyone commented on how fantastic they were – and their set list covered some of our favourite songs.
We then had a DJ, and the dancefloor filled up pretty quickly!
Personal and handmade touches
– The bridesmaids made bunting and woollen pompoms
– We painted an old wooden stepladder in the aqua colour, and used them to display old family photos
– Steve made the photo booth – which was more like a kiosk!
– I made a heart out of painted corks
– Steve made signs for the wedding – and one for the bar
– The table names were pieces of wood with guests names burnt into them
– We wrapped 70 odd jam jars in hessian and ribbon – and used some extras as tea lights
– The table numbers were carved out of wood by Steve and we covered them in fake moss to keep in with the wooden/rustic theme.
Special moments or highlights 
Eeep – where do I start??
– Being crammed into the hallway of our house putting my dress on, surrounded by four bridesmaids, my mum, two photographers, a videographer and a baby. Surreal but we had such a giggle!
– My dad's reaction when he saw me. I will never forget that.
– Spending some time having our 'couple shots' – not only was it lots of fun, it was great to have some time on our own (well, apart from Binky, Sally and Ben!) and get away from the hustle and bustle of the day.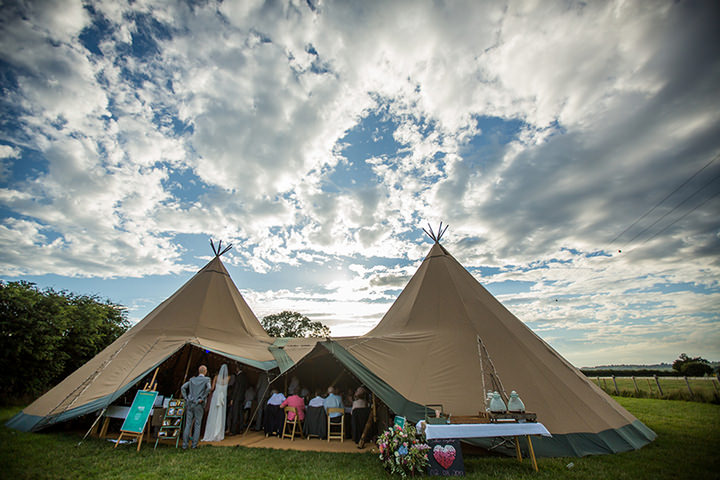 Advice for other couples
Don't compromise. If you have a vision – something that really represents you as a couple – stick to it. Family may not get it at first, but they will come around.
And you really do get back what you put in. The week leading up to the day was stressful, and we spent hours making, chopping, sticking things – but seeing it all come together was the best feeling ever. It was completely worth it.
Biggest surprise
The amazing atmosphere! We had planned so rigorously and worked so hard to put it together – but you can never predict the mood of the day. Everyone was in such good spirits, and there was a real buzz from start to finish.
Boho Planning Details
What planning service did you book from me?
On the day coordination.
What made you decide that you wanted to book a planner?
As we had a real DIY affair – there was so much that needed to come together on the day. We wanted someone there who could focus on everything running smoothly.
What do you feel were the biggest benefits of having me involved with your wedding?
We were able to be guests at our own wedding! The knowledge that you were there, putting out table decorations, making sure the caterers were on track, greeting suppliers, keeping things to time – it made all the difference in the world. Even little things, like taking the bouquets and putting them in water – which I would never have thought to do! It meant we could both focus on getting married – and enjoy the day.
Natalie & Steve Wedding Highlights from Ben Marlow on Vimeo.
Supplier Shout Outs