Laura & Aaron's Vintage Meets Travel Themed Tipi Wedding – Blog created By Kelly Hood at Boho Weddings
http://www.boho-weddings.com/
I've had some gorgeous weddings for you so far this week and today's is another beauty thanks to the lovely Nicola Thompson. This Manchester wedding is full of vintage touches, amazing blooms and a super cute couple. As you know I do love a tipi wedding, so you will realise why I love this wedding so much, that coupled with Nicola's fantastic photography skills. The couple always new they wanted a tipi wedding as they wanted a blank canvas to work from and really put their own stamp on their day. After saving over 400 jam jars to fill with flowers and decorating the tipi with vintage treasures and items collected from their travels around south America, this wedding is just brimming with Boho goodness. Congratulations Laura and Aaron on a fabulous day.
'A fun and relaxing day, full of love and laughter; where great memories were shared by all of our favourite people in an enormous tent.'
\
Laura and Aaron were married on 10th August, The ceremony was at St John's Church, Chorlton, with the reception in a tipi at Hilltop farm, Woodford. 'We got married at St John's Church in Chorlton as it's our local church and one that we hold dearly to our hearts. Father Mac is quite a legend in Manchester as he's very funny so we wanted him to marry us. For the reception we wanted something quite relaxed so after much research and reading wedding blogs we decided a tipi was very us. This was something that we could put our own stamp on and make the day more personal to us.
Initially, it took us ages to find a perfect place to put the tipi as we wanted something close to the church (close to the centre of Manchester) but with a rural feel and with picturesque views. We booked a couple of farms around Cheshire, but we just kept changing our minds. After trawling through wedding blogs etc we found Hilltop farm in Woodford. The farm is owned by a really friendly family who were very accommodating and helped us with everything. On our first visit there we couldn't believe the views and the setting, so we booked and paid the deposit straight away! We had 110 guests in the day and an additional 50 evening guests. We got engaged in 2011 and decided pretty early on that we wanted a tipi so booked this quite far in advance. After this we didn't start planning until the end of last year. To be honest, a lot of our friends and family were getting worried that we had such a relaxed attitude about organising it and we did the majority of it about in only 6 months. We always said we didn't want the planning to take over our lives so that when it had all finished we wouldn't be on a massive come down.'
How they met
We've been friends since the age of 14 so all of our friends have grown up together. We did have a short romance at the age of 15, but nothing too serious! Then at the age of 18, we all left for university and Aaron and I went to Liverpool. Apparently, a few of our friends had all placed bets on us getting together in the first year and to their surprise we did! So, we have been together since our first year at uni, which was 11 years ago!
The proposal
After uni we both went straight into work and never did the whole travelling thing. When we were about 7 years in, we realised we hadn't seen the world and were missing out a bit. Aaron has family in Colombia that he had never met and we knew we wanted to definitely go there.
In the end, we decided to do 6 months in South America and we both got sabbaticals from work. Our first stop was Brazil which was absolutely amazing. In our third week we went to an island called Ilha Grande which is off the coast of Rio de Janiero. It was beautiful – no cars or cash machines and a really chilled out vibe with lovely people. We were only supposed to spend a few days there but ended up spending a week! On our last day we went on a boat trip around the island and had a lovely day. That night we watched the sunset and Aaron proposed to me on the beach. It was beautiful!
Why did you choose your photographer?
When we were looking through wedding blogs for tipi ideas we created a list of all the photographers we liked that had already photographed tipi weddings. We wanted somebody that had already done a tipi as the lighting is so different.
At the top of the list was Nicola Thompson, we had already spoken to her regarding the land of a wedding she had photographed. When we spoke to Nicola over the phone she was so helpful – a bit like a wedding organiser not just a photographer! She gave us lists of catering companies and ideas that had worked for cakes and bands!
Nicolas photos are amazing and all the weddings she has photographed seem personal to the couple getting married. We love how Nicola has the ability to catch all the different aspects of each wedding day – fun, laughter, tears and all the details that make each day special.
The dress
I bought my dress in a fantastic shop called Timeless Bride in Poynton. Michelle the owner was so good at helping me choose something that could be quite traditional for the church, but fun and floating for the tipi! Every time she went to a new exhibition or fashion show she would ring me or send me photos of ones she thought would suit me. In the end I chose the designer Ellis as I wanted something quite fitted with Lace.
My shoes were from Kurt Geiger and I wore some diamond earrings bought from my parents and a diamond bracelet that was a gift from Aaron on the wedding morning.
The suit and bridesmaids
For the bridesmaids I wanted something quite boho and comfortable. As there were 5 of them I didn't want to spend too much and looked in all the usual high street shops for maxi dresses. In the end we found them in Zara and my fantastic aunty made all the necessary adjustments.
Aarons suit was from Reiss and the groomsmen suits were from Next. As a gift we bought the best men and ushers a different pocket square to wear on the day which looked great.
Theme or colour scheme
As it was a summer wedding we wanted light pastel colours and neutrals which were picked up in the bridesmaids' dresses, flowers and decorations. We also had a mix between vintage decorations and props like old lanterns, vases and jars. Also as travelling to South America was such a big part of our lives we had loads of things we collected from there dotted around as well as photo's of the places we'd been to.
Flowers
Our friend, Ann Kirkwood, is a florist so we used her as we trusted that she knew what we wanted. The best tipis that we saw in the run up to the wedding were full of wild flowers and this was the style we wanted. Sunflowers are Laura's favourite, so Ann managed to use them in her bouquet. We collected over 400 jam jars to hold the flowers and Ann decorated them with hessian and other natural materials. When we first walked into the tipi it was the flowers that stunned me – they were amazing and more than we expected.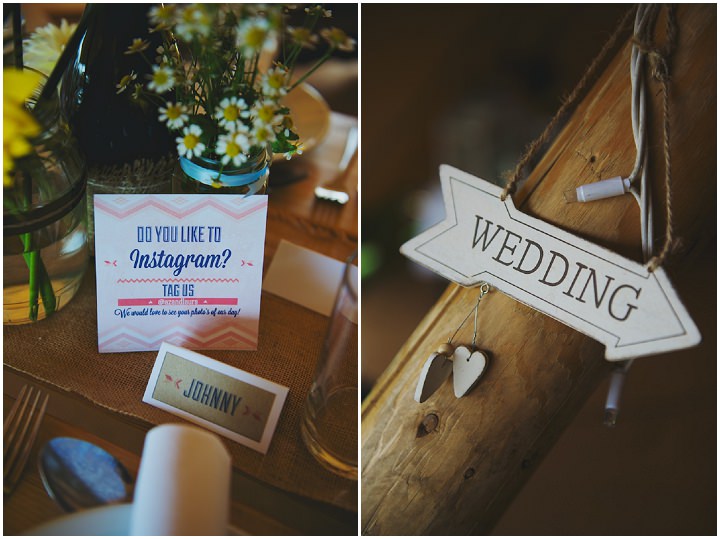 Food
We wanted a relaxed and fun atmosphere so we decided to have sharing platters which were placed in the middle of each table. For the starter we had a selection of tapas which was served on large wooden boards and for the main course we had a lamb tagine and a chicken and chorizo stew which were served in large dishes on each table for our guests to share.
Wedding Cake
We didn't have a traditional wedding cake and asked friends and relatives to each bake their favourite cake for the wedding. Everyone really took to the idea and we ended up with loads of different cakes like brownies, cupcakes, lemon drizzle etc.
The cakes were all shared between each table which we served, this way we got to say hello to all our guests whilst they were sat down. Delivering the cakes was one of the best moments of the day as we actually got to spend some time with each table.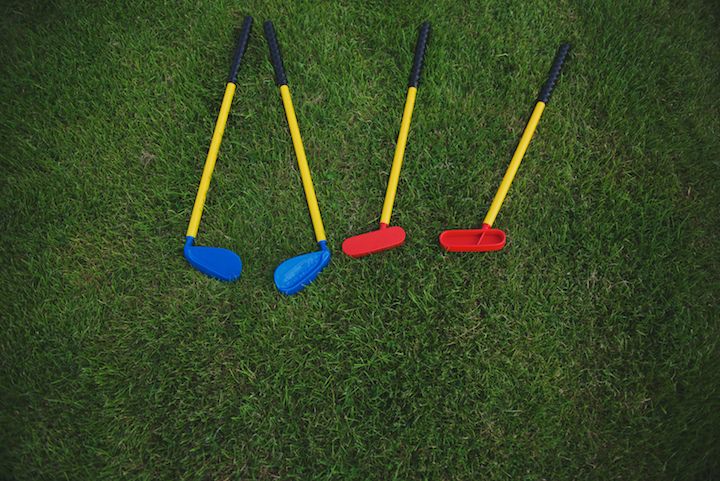 Entertainment
Our band were absolutely fantastic and had everybody up dancing for their whole set! Silver dog music was the company we used and the lead singer was Mat Wolf, who was brilliant.
In the church we had an ex pupil of Laura's called Megan Rowe. This was very special to Laura, having a pupil sing her down the aisle. She sang a range of songs, but our favourite was 'Is this love' by Corrine Baily-Rae/ Bob Marley
Decoration
One of the things we loved about having a tipi was that you can decorate it however you want. We started off by having loads of paper honeycomb hanging balls with bunting. We found a really cool company at a wedding fair called Love In a Teacup. They hire out vintage props and decorations. The owner, Kelly was really helpful and she made us lots of bunting out of old doily's and lace. We hired vintage cake stands from her and large glass decanters for our arrival cocktails. We also collected loads of vintage lanterns and found objects to dot around the tipi and had loads of these in the chill out area which looked really cool with an old chesterfield sofa and floor cushions. One of our favourite decorations was a photo wall of all of our guests – we made washing lines and pegged photo's of everyone on them and left some message cards for guests to right messages on and pin to the washing line. We did this as a fun alternative to a traditional guest book. We made loads of the stuff ourselves but I think the flowers really made the tipi. Having hundreds of jars in all shapes and sizes with different wild flowers and tea lights looked amazing.
Personal touches and handmade touches
The great thing about having a tipi is you can put your own stamp on it, which we were really excited to do. Designing and decorating your venue can be daunting and quite stressful, but when you see the end product it makes you so proud that every personal touch is meaningful to us. We started by making our own 'save the dates' and invitations. We printed these on an old risograph printer on recycled craft card which added to the handmade quality we were going for. We also made all the name cards, table cards and table plan ourselves which was a bit of a labour of love but glad we did in the end. We named each table after a different place we visited in South America. It was great having loads of different references to South America in the decorations and also the music we played in the day whilst people were out in the sun and during the meal.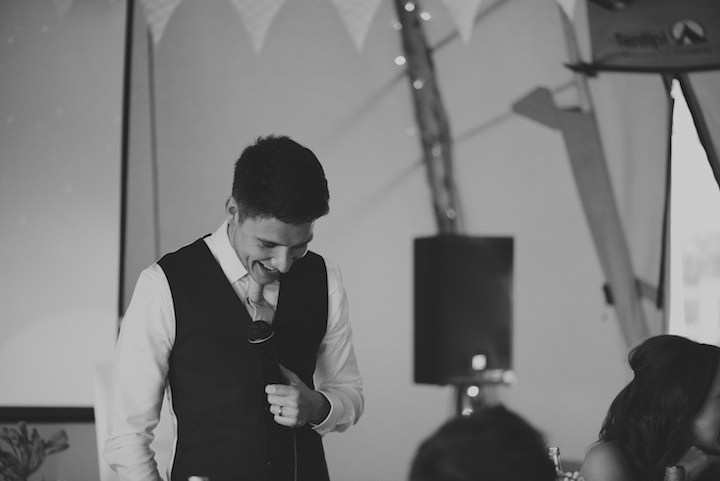 Special moments
The best memory has to be walking down the aisle to meet Aaron. After being together for 11 years, we had talked about that moment for so long.
When we walked into the tipi and everybody was sat down, we looked around and couldn't believe how many family and friends we had that meant a lot to us.
We had a surprise video from Aaron's family in America along with Spanish messages from his family in Colombia.
Advice for other couples
I think the best bit of advice we could give is just enjoy the day and don't worry about it if some things don't go to plan, you will probably laugh about the small hiccups a few weeks later. Also a tipi wedding involves lots of planning, you have to consider things that you might not have to think about for other weddings. Hiring stuff like generators, mobile toilets, land etc is quite daunting.
Biggest surprise
Not really a surprise but one thing that we didn't expect to be doing on our wedding day was climbing a huge pile of old car tyres. Nicola our photographer found this in the farmer's yard and thought it would make a great photo if we both climbed to the top. It turned out to be one of our favourite photos of the day and one that all our guests comment on and it shows Nicola's creativity in taking brilliant photo's
It's an on-going joke amongst our friends that Laura isn't the most domesticated of people, some would say pretty lazy when it comes to the house work. So as part of the speeches the bridesmaids and best men had made a music video about this and played it on a projector. It was such a great surprise and we've watched loads since. You can see it here
Supplier Shout Outs