Liz and James DIY Festival Tipi wedding – Blog created by Kelly Hood at Boho Weddings
Happy Monday everyone, and how are you all today? Did you have a good weekend? It's a short week for me this week as I'm off from Thursday down to London for Nik's works Christmas party and then onto a big family Christmas do. I haven't seen my mum since June, so I'm looking forward to spending some time with her.
The wedding submissions have been coming in thick and fast and I have a great selection for you this week, starting with this fab festival wedding courtesy of Lifeline Photography. Liz and Jamie did a fantastic job of pulling together this DIY wedfest themed day. Complete with double-decker bar, bouncy castle, silent disco, loads of DIY decorations and lots of gorgeous details. I haven't seen a couple of smile as much for a long time, they are certainly very much in love and full of happiness and laughter, a real pleasure to see.
Wedfest family fun that represented Jamie and I perfectly where friends and family had a relaxed inebriated fun day.
Liz and Jamie were married on the 3rd August at Normanton Church on Rutland Water. The reception was a cricket field where the family used to play cricket, rented out by the local village committee. 'I used to cycle round Rutland Water every summer holiday. When Jamie asked what type of place we were looking for I took him there, not knowing they had got a licence the year before. It was destiny. We had 70 guests (with 25 children) and it took one year to plan'.
How they met
I took a new colleague to the Cambridge Beer Festival for her birthday as she only knew four people in the area. They arranged to meet us there for a pint and move on to some punting etc. They were over two hours late!! They were apparently waiting for some guy to arrive from Bristol (where they had originally moved from) so he could 'support' my new colleague on her birthday by having more friends there. It was a rough three hour journey on his motorbike in the rain. When he arrived with them he looked shattered and I commented he looked like he needed a cuppa tea, not a beer. He replied "and the submarine of all biscuits" to which I answered "Hobnobs?". "You and I are going to get on just fine" he smiled. A year later he moved from Bristol to Cambridge and in with me. Four years later I'm writing this blog post.
The proposal
It was my graduation day, named 'Liz Day' by Jamie. He even let me pick out the clothes I would like him to wear as he was so proud of me as this had been a long time coming.
On route to the restaurant afterwards Jamie walked me by a ring shop. "That's were your ring is, you know I'm going to ask and today would have been perfect but they couldn't get the ring back to me in time". It was true, at Christmas I knew he had asked my father's permission (mum has a big mouth!) and had been given a family diamond ring. Unknown to me Jamie had designed a new setting for it and it was now just the other side of a window and a closed sign. We walked onto Claire's Bridge (also known as the black widow's bridge!) and Jamie looked nervous as people walked by us. I was looking towards the setting sun as Jamie suddenly pulled me around, grab me by the shoulders, gave me a hug, muttered words such as "know how much I love you, amazing, rest of life" and then suddenly he was down on one knee asking if I would do him the honour of being his wife and he had the ring in his hand. He was so nervous! I obviously screamed yes a number of times and people clapped from across the way.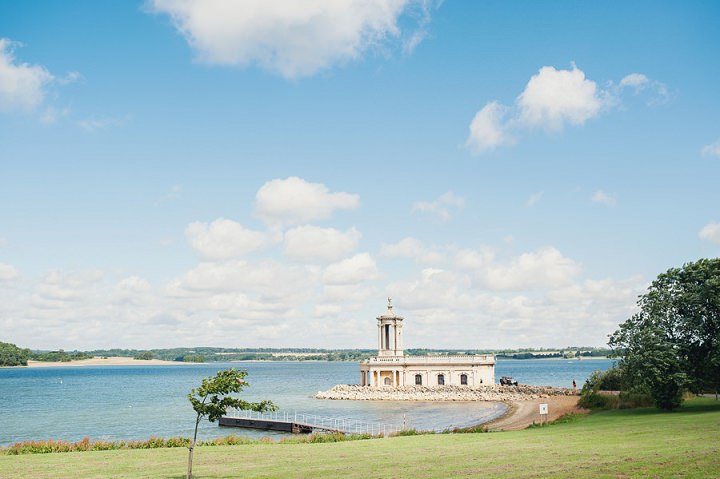 How did you allocate your budget?
Our budget was £15000
Why did you choose your photographer?
A friend of my sister is now a photographer. Fate dealt its hand and she was unavailable on our date but gave me three names to think about. Hannah was on the list. Jamie knew it had to be Hannah straight away. I loved her blog/portfolio but wanted to know if we would gel as people. A skype call later and we were handing over the deposit. She totally understood what we were looking for and it was her style too. Happy, natural people just enjoying the day.
I am not the most confident person in front of the lens but after our engagement shoot I had learned a few tricks and Hannah even managed to get me to look into the lens once or twice! She was just so friendly, happy and easy going that it relaxed me and I felt safe in the knowledge that she would not be disappointed with any shoots of me, she just wanted me to have fun and enjoy the experience.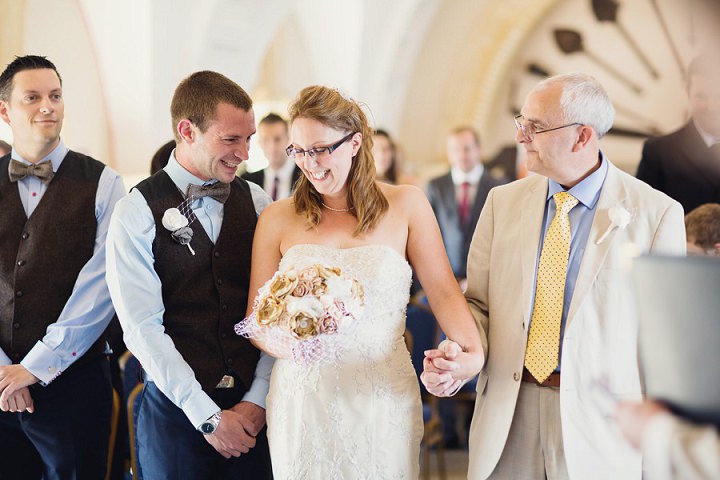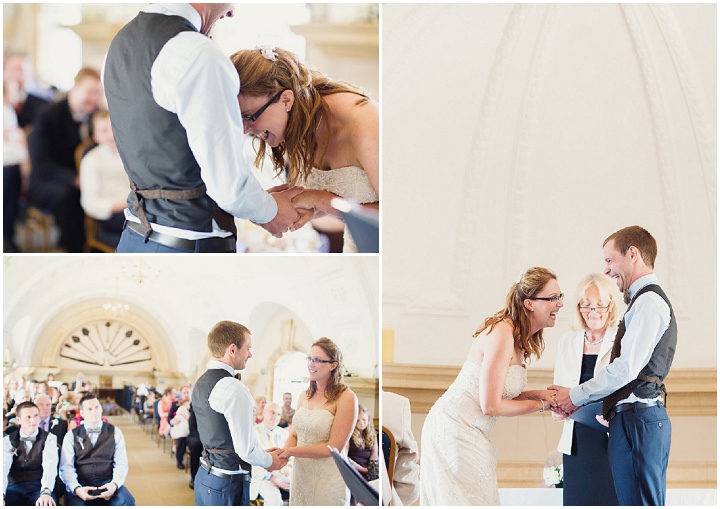 The Dress
I really didn't believe in 'the dress' but when they put this one on me, I knew. The shoes were Kurt Gieger. My mum, dad and bridesmaid wrote messages on the bottom of them in blue pen for my something blue. The tennis bracelet was a gift from Jamie on the morning of the wedding. The pearl necklace was the something borrowed, from my mum. My garter was a gift from my first babysitter, still a family friend. She brought it from etsy.com.
The suit and bridesmaids
The suits were from a mix of shops. We didn't want typical tux as we were going to be in a field. So the trousers were from River Island, the waistcoats from Asos and the boys wore their own shirts. A friend had got married the year before and I loved her bridesmaid dresses. They were actually brought online from Lightinthebox.com, something I would have been nervous to do, however, because I had seen the quality of the work before I was happy. I gave the girls the colour, material and budget and they choose their own style.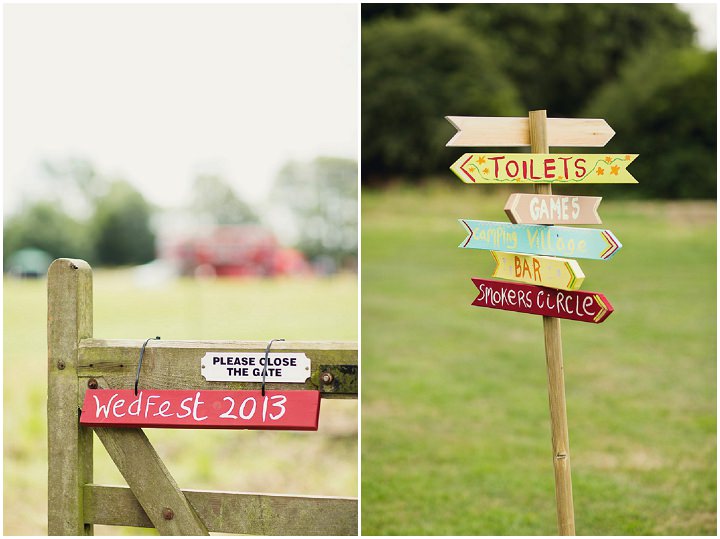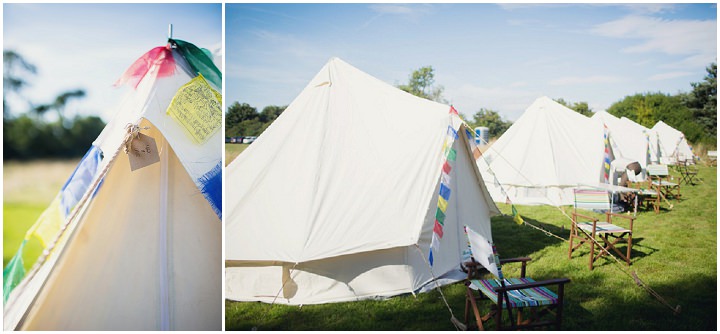 Theme or colour scheme
Festival vibe, Chocolate brown colouring, shabby chic styling, family fun day.
Decoration
Dressing a whole field is hard! You have to think about things in a big scale. So, the things I put in the field had to be big, hence two giant tipi's. Inside they have a number of decoration options. We chose benches, chill out furniture and a large fire pit. The other items we used to 'dress' the field were a red double decker bus (the bar), gazeboes full of toys and soft play equipment for the children, a bouncy castle, smokers den, DIY photo booth and a glamping village for guests to stay in. The overall feel was shabby chic so I found old suitcases, bottles, made my own candle holders from baby food jars, ribbon and buttons.
Flowers
I went to a wedding fair and fell in love with a bouquet made of tweed. I knew I had to have it. However, I showed a picture of the dress to the bouquet maker and we both agreed that it would be too much. When she asked about the bridesmaid dress, I looked at her and smiled. "Chocolate brown" I answered. "Perfect" she replied. We set upon designing my bouquet. The ladies button holes matched my bouquet and the men's button holes matched the bridesmaids.
On the tables in the tipi we had single gerberas in old bottles surrounded in ivy laid on the table.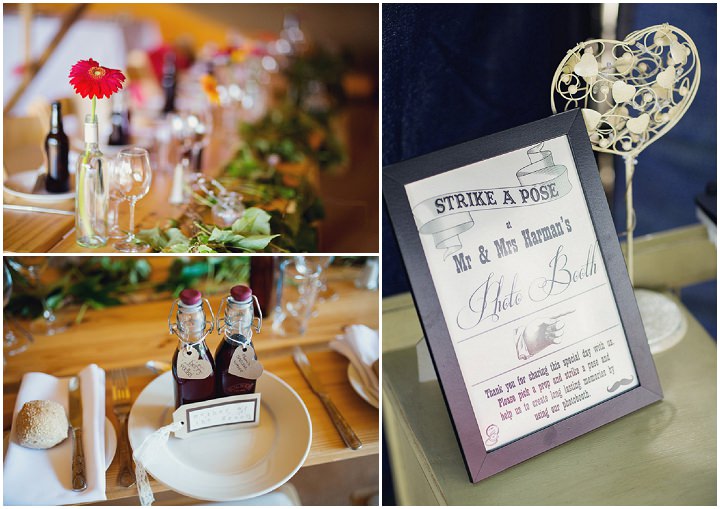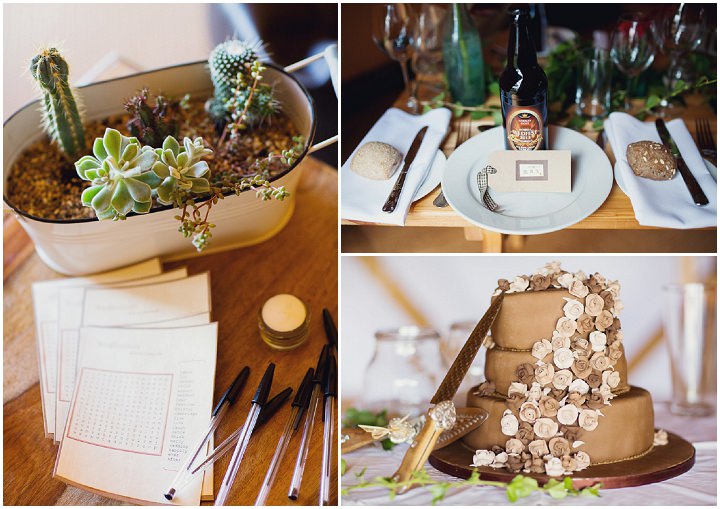 Buy or DIY your Stationery?
You name it we DIYWed it! It all started with the invites. Jamie's mum makes her own cards and said she would help with the invites. I put it off for ages and in the end another crafty friend offered her help. We jigged around with the design and came up with the perfect invite.
As we made them together she talked about how the evening invites should also look similar, as well as the order of service, menus, place cards – all these things I hadn't even thought of! Luckily Jamie and I were very happy with the 'rustic' look and so we happily made all these things and more to help decorate the church and the tipi's.
Personal or homemade touches
• Styled the tipi
• Made table plan out of blackboard circles and twigs.
• Made crosswords related to us to put in the chill out zone.
• 'For happy tears only' tissues which were laid out on the chairs in the church.
• My sister played me down the aisle while a friend (opera singer) sang 'kissing you' from the film Romeo and Juliet.
• I made my wedding favours. For the girls; apple and blackcurrant vodka made with my parents help. Beer for the boys from my maid of honours' husband, he designed the bespoke labels.
• My first ever babysitter and her son helped me decorate the tipi the day before, without them I couldn't have done it!
• Mum painted our wedding thumbprint tree, it was beautiful!
• Pictures of our grandparents were on the table where people signed the tree.
• My parents were amazing, they helped with so much. They cut a heap of ivy to dress the tables, kept the generator topped up with petrol, dressed the field, played security for the tipi while we weren't there… The list goes on!
Food
Canapés and cocktails then a buffet of lemon & tarragon chicken, antipasti platter, caramelised red onion, thyme and goats cheese tart, Melton Mowbray pork pie with pickles, baked ham, salads with new potatoes. Dessert was a pavlova. In the evening we ate sausages and chips in cones with the cake as dessert.
The wedding cake
Jamie's family have always had their birthday cakes made by a family friend and so it seemed naturally that she should do our wedding cake. We looked at her portfolio and a few options online and it was actually Jamie who decided on how it should look, changing the colours to fit in with our colour scheme.
Entertainment
We had an amazing band that plays locally to us in our pub on New Years and other big events; 'Up & Atom'. They were great, totally got the playlist right with all the sounds of our 'youth' and learnt our first dance, "It must be love" by Madness. Due to the timing of our wedding (11am) our evening party started early (5pm) and so the band came on a lot earlier than a 'normal' wedding. I needed something to fill the time from 10:30 till people left so I found silentnoize on line. Everyone thought I was nuts when I said I would have a silent disco to end our wedding but now, everyone has said it was the best part of their day!!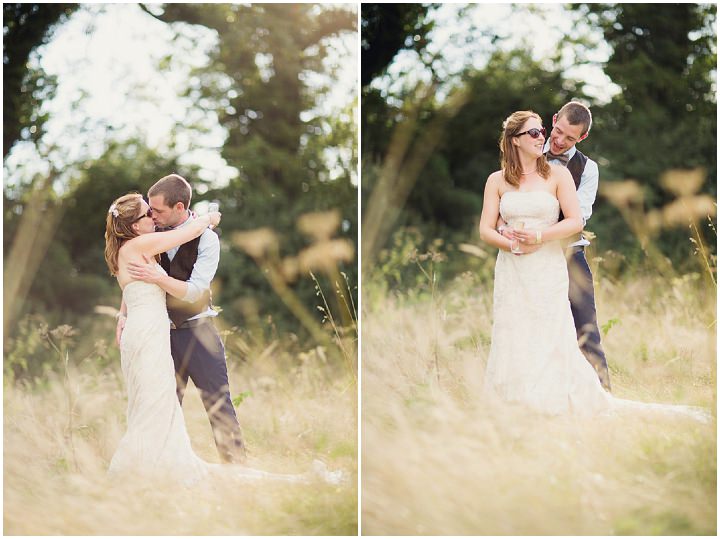 Special moments or highlights
Everything. It was just perfectly us and everything that we wanted, our friends and family to have a fun day with us.
Biggest surprise
My mum and dad surprised me with the bridal car. We were supposed to be using mum and dad's vintage car but it wasn't up to the job in the end. Rather than panic me, dad had organised a vintage Rolls Royce to pick us up!
Advice for other couples
Everyone says it, but truly, try not to stress about the little things. On the day, just let it all go and enjoy. Vanessa (our on the day co-ordinator) was invaluable for this process. I planned it all but on the day I needed someone else that knew everything I knew, who could see the problems before they happened and could fix them. She was all this and more! I couldn't recommend an on-the-day coordinator enough to someone planning a wedding like ours.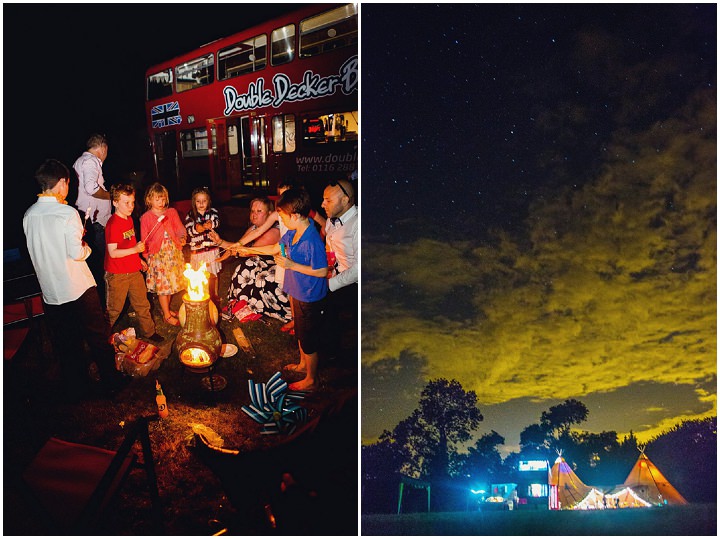 Supplier Shout Outs: